The British Broadcasting Corporation (BBC) is facing a world of pain; its sports coverage, including several English Premier League (EPL) matches on the weekend, had to be scrapped as dozens of staff members refused to work in solidarity with top football host Gary Lineker, who was suspended by the broadcaster over his tweet criticising the British government's asylum policy.
Lineker's suspension led to the famous Match of the Day, a football television programme, being reduced to just a 20 minute episode of just highlights with no commentary, no analysis, no explanation. As the Daily Mail reported, 'It was like low budget amateur club DVD'. There were no post-match player interviews either.
But what led to this situation? Why are presenters refusing to go on air? What led to Gary Lineker's suspension?
The tweet that began it all
Gary Lineker is a former English football player with 48 goals in 80 international appearances. During the 1986 World Cup, his six goals before England bowed out to Argentina saw him win the Golden Boot ahead of Diego Maradona.
Following his retirement from football, he became a sports pundit, hosting the soccer program Match of the Day — the world's longest-running football television programme and a cultural phenomenon in Britain.
Before the suspension, 62-year-old Lineker was one of Britain's most influential media figures and was paid £1.35 million (Rs 13.37 crore) by the BBC last year.
On 7 March, Lineker in a Twitter post described the government's new plan to detain and deport migrants arriving by boat as "an immeasurably cruel policy directed at the most vulnerable people in language that is not dissimilar to that used by Germany in the 1930s."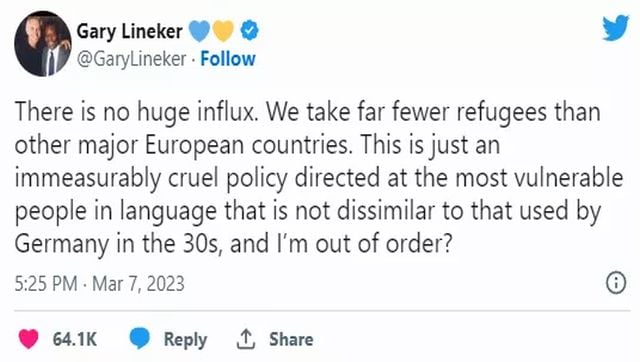 In another tweet, Lineker responded to a video in which Home Secretary Suella Braverman unveiled plans to stop migrants crossing the Channel on small boats. Retweeting the video which was captioned, "Enough is enough. We must stop the boats", Lineker wrote, "Good heavens, this is beyond awful."
Good heavens, this is beyond awful. https://t.co/f0fTgWXBwp

— Gary Lineker 💙💛 (@GaryLineker) March 7, 2023
BBC's suspension
A day after Lineker's tweet, BBC on 8 March said that Lineker's "recent social media activity to be a breach of our guidelines", adding he should avoid taking sides on political issues. "The BBC has decided that he will step back from presenting Match of the Day until we've got an agreed and clear position on his use of social media," the broadcaster said in a statement.
Lineker hasn't commented on the suspension publicly. On Saturday, he went to his hometown of Leicester to watch Leicester City play Chelsea in the Premier League. He was greeted with cheers from bystanders as he arrived for a match Chelsea won 3-1.
However, the suspension has thrown light on BBC's 'impartiality' in its news coverage. The 100-year-old broadcaster has rules which state that its staff are barred from expressing political opinions. However, Lineker is a freelance broadcaster, and not a permanent member of the BBC's staff.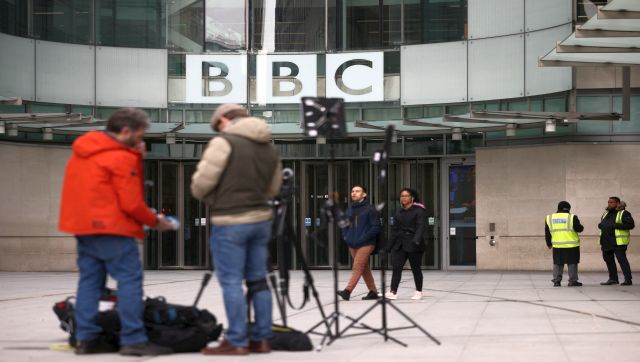 While the broadcaster's director-general Tim Davie flatly rejected that Lineker was suspended due to pressure from the governing Conservative Party, Labour leader Sir Keir Starmer said that BBC was "caving in" to Conservative MPs, saying such actions were "the opposite of impartial."
"They got this one badly wrong and now they are very, very exposed," Starmer stated. "Because at the heart of this is the government's failure in the asylum system. And rather than take responsibility for the mess they've made, the government is casting around to blame anybody else — Gary Lineker, the BBC, civil servants, the 'blob'."
Also read: BBC documentary 'The Modi Question': Another salvo of bias, hateful propaganda and colonial hangover
The fallout
Shortly after BBC suspended Lineker and pulled him off Match of the Day, his fellow pundits, Alan Shearer and Ian Wright, on the show also pulled out, saying they would not take part either. Wright said on the matter, "Everybody knows what Match of the Day means to me, but I've told the BBC I won't be doing it tomorrow. Solidarity."
I have informed the BBC that I won't be appearing on MOTD tomorrow night.

— Alan Shearer (@alanshearer) March 10, 2023
Other sports commentators such as Jason Mohammad, Micah Richards, Jermaine Jenas, Jermain Defoe, Glenn Murray, Dion Dublin Alex Scott, Mark Chapman all withdrew their services, meaning flagship programmes Football Focus and Final Score didn't go ahead over the weekend.
BBC Five Live was forced to cancel Fighting Talk and the Five Live Sports Show. Match of Day commentators led by Steve Wilson, Jonathan Pearce, Guy Mowbary and Robyn Cowan declined to work.
Sunday's coverage of the Women's Super League aired without commentary from regular BBC presenters.
Ian Dennis, a popular commentator for the broadcaster, continued his commentary on Five Live on the Leeds v Brighton game on Saturday. Dennis, who is on the BBC staff rather than a freelancer, said, "Personally I have found today very difficult. But I'm a BBC staff member. I'm a radio commentator for BBC Five Live and like every Saturday, we provide a service to you."
Piers Morgan, a known presenter on BBC, also lend his support to Lineker saying that even though he didn't support the pundit's views, it was his opinion. "It's absolutely insane that Britain has become a country where having an opinion can cost you your job. If we don't cherish and fiercely protect free speech, even for views we personally despise, we're no better than totalitarian regimes like China & North Korea," said Morgan.
Premier League players also said that they wouldn't participate in Match of the Day post-match interviews while Lineker remains suspended.
Liverpool manager Jurgen Klopp when asked about the situation, replied: "My problem with the situation how I understand it — and I'm not native — is that I cannot see any reason why they would ask anyone to step back for saying that. I can't. I'm not sure if that's a language issue or not. But that's the world we are living in. Everybody is so concerned about doing things in the right manner, saying the right stuff to every-body, and if you don't do that you create a s***storm.
"If I understand it right then this is about an opinion about human rights. If I've got it right then for me there's no reason (for the BBC to have stood Lineker down)."
The disruptions in programming led to BBC's director-general Tim Davie having to apologise. "It's been a difficult day and I'm sorry that audiences have been affected and they haven't got the programming," Davie said on Saturday. "We are working very hard to resolve the situation and make sure that we get output back on air."
What next?
The row continues as BBC attempts hard to resolve the issue. As per a Sky News report, sources close to Lineker are confident that the row will be resolved in the next 24 hours.
Moreover, BBC is expected to announce a review of its social media guidelines and, as per a Daily Telegraph report, Lineker will agree to be more careful about what he posts on social media.
With inputs from agencies
Read all the Latest News, Trending News, Cricket News, Bollywood News,
India News and Entertainment News here. Follow us on Facebook, Twitter and Instagram.