Pakistan's blasphemy law is once again in the spotlight after an anti-terrorism court in northwest Pakistan sentenced a man to death over a 'blasphemous' Whatsapp message.
On Friday, the court in Peshawar sentenced Syed Muhammad Zeeshan — under the country's Prevention of Electronic Crimes Act and Anti-Terrorist Act — to death and also fined him $4,300.
The court noted that Zeeshan has the right to appeal his sentence. The case emerged after Muhammad Saeed, a resident of Talagang in Punjab province filed an application with the Federal Investigation Agency (FIA) of Pakistan two years ago accusing Zeeshan of posting blasphemous content in a WhatsApp group.
Saeed's lawyer, Ibrar Hussain was quoted as saying to AFP that "the FIA had confiscated Zeeshan's cellphone and its forensic examination proved him guilty".
As Zeeshan now faces the gallows, we take a closer look at Pakistan's blasphemy laws and how they have been used in the past.
Blasphemy laws in Pakistan, explained
Syed Muhammad Zeeshan was sentenced to death under the country's blasphemy laws. These laws were initially promulgated by the British government in 1860. Initially, four blasphemy laws were introduced — 295, 296, 297 and 298.
According to a report in the BBC, between 1980 and 1986, a number of clauses were added to the laws by the military government of General Zia-ul Haq. He wanted to "Islamicise" them and also legally to separate the Ahmadi community from the main body of Pakistan's overwhelmingly Muslim population.
The law enacted by the British made it a crime to disturb a religious assembly, trespass on burial grounds, insult religious beliefs or intentionally destroy or defile a place or an object of worship. Punishment for such crimes was set at one year to 10 years in jail, with or without a fine.
In the 1980s, the law was expanded and making derogatory remarks against Islamic personages was made an offence, carrying a maximum punishment of three years in jail. In 1982, another clause was added adding life imprisonment for 'wilful' desecration of the Quran. Four years later, a separate clause was inserted to punish blasphemy against the Prophet Mohammed and the penalty recommended was "death, or imprisonment for life", in that order.
In January this year, the Pakistan National Assembly strengthened blasphemy laws even further after passing the Criminal Laws (Amendment) Act 2023. Through this, it increases the punishment in cases pertaining to the blasphemy of Prophet Mohammed's companions and his progeny from three years to 10 years and extendable up to lifetime imprisonment, along with a fine of 1 million Pakistani rupees. It also modifies blasphemy to a non-bailable offence.
At the time of tabling the legislation, Deputy Speaker Zahid Akram Durrani had called it a 'historic' moment, congratulating the lawmakers for carrying out what many saw as their religious duty.
Increase in blasphemy cases
Data shows that blasphemy cases in Pakistan have increased manifold. The Centre for Research and Security Studies (CRSS) has found that there have been over 700 cases of blasphemy filed in Pakistan until 2021.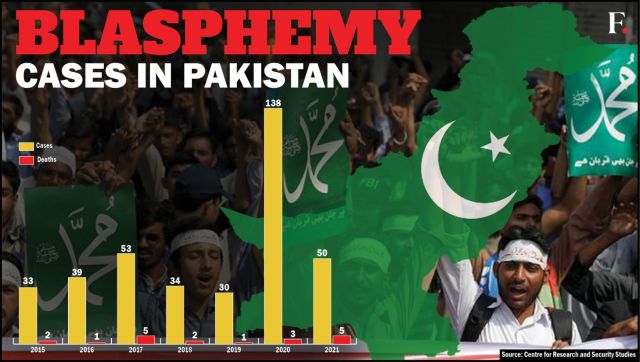 Of this, 89 people have been killed extra-judicially. The CRSS states that the actual number is much higher as not all blasphemy cases are reported in the press. The CRSS director Peter Jacob in a 2021 report published by the Dawn had said, "Initially, mostly non-Muslims were accused by the Muslims. However, the trend has changed with Muslims bringing allegations against other Muslims. The faulty legislation is like Damocles' sword hanging overhead. Anything can happen anytime."
The report further stated that most of the blasphemy cases were reported from the Punjab province, followed by Sindh.
A concern in Pakistan
Blasphemy laws in Pakistan, which has the world's second-strictest laws after Iran, have become a concern among human rights activists as well as some theological scholars.
Many Muslim scholars and intellectuals argue that such laws go against the religion and teachings of the prophet. They argue that Prophet Mohammed never executed anyone for apostasy, nor encouraged his followers to do so. Criminalising sacrilege isn't based on Islam's main sacred text, the Quran, either. It contains over 100 verses encouraging peace, freedom of conscience and religious tolerance.
Human rights activists argue that blasphemy laws in Pakistan encourage legal discrimination and persecution in the name of religion. They state that those accused of blasphemy become targets of mob justice.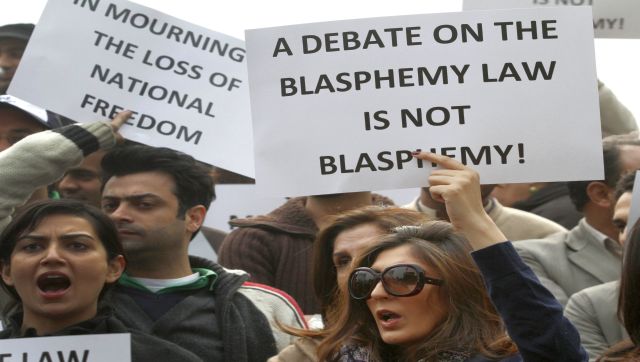 Activists also contend that blasphemy laws are widely used to settle personal scores. In fact, in the landmark judgment against Mumtaz Qadri in 2015, the former chief justice of Pakistan had stated, "The majority of blasphemy cases are based on false accusations stemming from property issues or other personal or family vendettas rather than genuine instances of blasphemy, and they inevitably lead to mob violence against the entire community."
Also read: No country for minorities: Legitimising murders in the name of blasphemy in Pakistan
"The current version of the blasphemy law is draconian. It is often misused, abused and exploited by individuals for their own ulterior motives and vested interests," Tahira Abdullah, a human rights activist, told Deutsche Welle.
Infamous blasphemy cases in Pakistan
Pakistan's blasphemy laws have been a source of contention and also led to protests and violence over the years. Perhaps one of the most famous, or infamous, cases was that of Asia Bibi, a Pakistani Christian woman.
In 2010, she was originally convicted of blasphemy after being accused of insulting Prophet Mohammed in a row with her neighbours. Eight years later, she was acquitted of the crime and fled to Canada for her safety.
In 2011, Punjab governor Salman Taseer was assassinated for calling the blasphemy law a "black law." In the same year, Shahbaz Bhatti, the minority minister, was also killed for advocating reform of the country's blasphemy law.
Two years ago, a Sri Lankan factory manager was beaten to death and set ablaze by a mob in Sialkot city after being accused of blasphemy. Two months later, a man was killed by another mob for allegedly burning pages of the Quran in Khanewal in Punjab province. The man was tied to a tree and thrashed by an angry mob wielding batons and axes, according to reports.
With inputs from agencies
Read all the Latest News, Trending News, Cricket News, Bollywood News,
India News and Entertainment News here. Follow us on Facebook, Twitter and Instagram.